When you partner with a Keller Williams agent, or offer on one of our listings, you're eligible to take advantage of this program.
Keller Mortgage does not charge an origination fee, underwriter fee, processor fee, transaction fees, rate lock fee, etc! And for loans greater than $150,000 they also give a $1,000 credit back at closing, which will cover the cost of your Appraisal and Inspection. On top of all that, Keller Mortgage offers very competitive rates and orders the appraisal the first day. If you don't close, you don't pay for the appraisal.
What loans are offered?
Primary, Vacation, and Investment Properties (1-4 units residential).
Purchase and Refinances (for KW Agents and KW Transactions).
Keller Mortgage can provide:
Conventional Fannie Mae and Freddie Mac – min. 3% down
JUMBO (up to $3 million)
FHA – min. 3.5% down
VA - $0 down
USDA - $0 down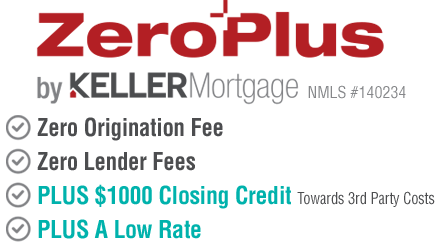 Why Get Pre-Qualified?
1. Pre-qualification acts as a dry run of the loan application process. The mortgage lender will use details you provide about your credit, income, assets and debts to arrive at an estimate of how much mortgage you can afford. The whole process may take only minutes or a few hours at most, and is free.
2. While a "pre-qual" is non-binding to the lender (because the information you provide has not been verified), it does serve as a good indication to potential sellers of your general creditworthiness.
3. These days most sellers will NOT accept an offer without at least a pre-approval letter, so if you are serious about buying this is the first step towards getting you in your new home.
---