Communities
Communities Served
Your Local Real Estate Connection
Get a positive, helpful partner for buying or selling a home:
Trusted resource for answers about the process
Excellent communication
Innovative marketing strategies
Expertise about neighborhood features
Ability to target home searches
Strong negotiation skills
Support through the closing and beyond
Visit my virtual tours or browse through the listings.
 My site will search through both the Selkirk and the CDA mls so that you will see everything for sale in the Northern Idaho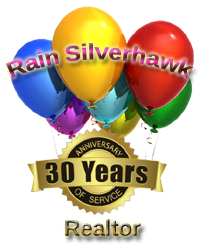 Looking to sell your property? My marketing plan will get it sold.
Please contact me at Rain@LakeandHomes.com or at 208-610-0011
 As part of the top 20% of real estate agents I proudly serve as an Associate Leadership Council (ALC) member. 
We were extremely lucky when we found Rain Silverhawk and asked her to list out home. I had tried to sell my home through other agents for almost 2 years. She sold my home in 4 days! We then used her to buy our next home. Rain made the whole process go smooth and easy and was on top of the details the entire way. She was extremely pleasant and easy going and a joy to …
  -Steve Anderson, Client
Rain Silverhawk helped us find our dream place in Idaho, a 4+ acre home in Bonners Ferry that we kept for 9 years until it was time for us to move on to new pastures. After we had problems finding a realtor who could sell it for the price we felt it was worth, Rain stepped in and landed an offer in less than two weeks. She is by far, the best realtor we have dealt with …
  -Jan Lee, Client
Rain Silverhawk has done an amazing job for us on several real estate transactions. She is familiar with the area and local market, having decades of experience in real estate here in North Idaho. She helped us negotiate all the intricacies that come with buying and selling your home. Her professional relationships and familiarity with not only the process, but the other …
  -Gallette, Client
In today's competitive market, you need a passionate, local advisor that can help you navigate the home buying and selling process. As a valued client, you'll receive:
• Local market knowledge
• Access to industry-leading real estate tools to determine your homes value or customize your home search
• A proven negotiator who will be with you every step of the way
• A trusted and knowledgeable partner through closing and beyond
186 Snow Valley Rd Priest River ID
83864
Call Rain Silverhawk to view this home today!  208-610-0011
969 E. Dempsey Hayden ID
83835