Zero Lender
Fees
Get pre approved for your zero lender fee mortgage today
When you partner with a Keller Williams agent, or offer on one of our listings, you're eligible to take advantage of this program.
Keller Mortgage does not charge an origination fee, underwriter fee, processor fee, transaction fees, rate lock fee, etc! And for loans greater than $150,000 they also give a $1,000 credit back at closing, which will cover the cost of your Appraisal and Inspection. On top of all that, Keller Mortgage offers very competitive rates and orders the appraisal the first day. If you don't close, you don't pay for the appraisal.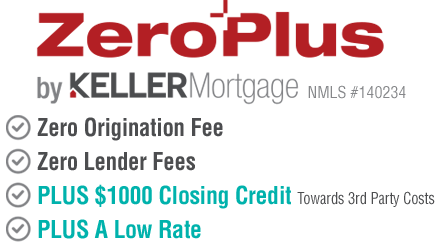 What loans are offered?
Primary, Vacation, and Investment Properties (1-4 units residential).
Purchase and Refinances (for KW Agents and KW Transactions).
Keller Mortgage can provide:
Conventional Fannie Mae and Freddie Mac – min. 3% down
JUMBO (up to $3 million)
FHA – min. 3.5% down
VA - $0 down
USDA - $0 down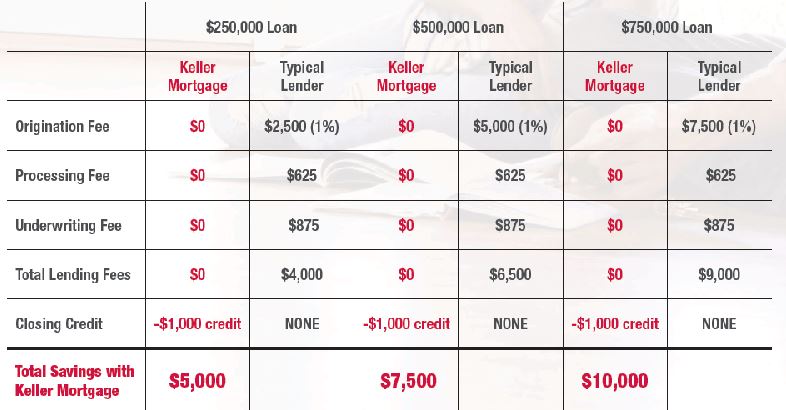 Keller Mortgage Benefits for Sellers
When you hire a Keller Williams agent to list your home, any buyer who wishes to purchase your home becomes eligible to use Keller Mortgage. This benefit allows any buyer who views your home and makes a written offer to finance your home with Keller Mortgage.
Since the buyer no longer needs you to pay their closing costs, it results in a higher net offer to you the seller. This can put thousands of extra dollars in your pocket.
You also benefit from the appraisal being ordered immediately and also knowing that the buyer is well qualified to purchase your home. A buyer is more likely to offer on your home as opposed to another home that is not offering this financing.
Lastly, Keller Mortgage will be available to you when you purchase your replacement home.
Keller Mortgage Benefits for Buyers
Ask anyone who has purchased a home recently and you will most likely here a similar story, that there are not a lot of homes available and the competition to get a desired home under contract is even more competitive.
This where Keller Mortgage comes in. Keller Mortgage offers no lenders fees to you when you work with a Keller Williams agent or you purchase a home listed by a Keller Williams agent. So why is this so important? It allows you to make an offer that is more competetive. Most buyers request the seller to pay all or a portion of their closing costs, by asking for closing costs you reduce the value of your offer to the seller. By using Keller Mortgage you eliminate the lender fees which allows you to make an offer without a request for seller paid closing costs
Not only does Keller Mortgage not charge any lender fees, it also provides a $1000 credit* to pay any third party closing fees.
Another value of the program is that Keller Mortgage orders the appraisal immediately when other lenders wait until after the inspection contingencies. This gives a seller piece of mind knowing that a major hurdle to the sale can get crossed of the list quickly. This feature give the seller another reason to select your offer over other suitors.
*Credit back is available on loans above $150,000